Postcards from Venice Box
€ 35.00
Key Ingredients:
421 Laguna

|
1104 Arsenale

|
2021 Cannaregio

|
1725 Le Calle Di Casanova
Patrick Pistolesi has created 4 exclusive cocktails to celebrate as many places and times of the thousand-year history of the Republic of Venice - the origins, the art of sailing, the ability to charm and the future. An iconic box labelled for NIO Cocktails and Select.


421 - Laguna
(Select - Cocchi Vermouth Americano; 100 ml, 13.6% vol.)
A genuine cocktail to celebrate the origins of Venice; a cocktail for a no-frills tasting of the irreplaceable ingredient for the authentic Venetian Spritz: Select. Patrick chose a Vermouth, a fortified wine, for this trip.


1104 - Arsenale
(Select - Bonollo Italian Brandy - Cocchi Americano Vermouth - Chazalettes; 100 ml, 21.4% vol.)
Arsenale: Patrick wanted to dedicate a bold, strong, intensely Italian cocktail to the fortified heart of the city. An aperitif of character, for daring palates and lovers of tradition.

1725 - Le Calli di Casanova
(Select - Bols Creme de Cacao - Organic Citric Acid - Liquid Sugar; 100 ml, 11.1% vol.)
Venice gives vibrations that meet an enveloping softness in this unique cocktail. This cocktail, deep in notes and impish in its combination, will pay homage to the art of beguiling and intriguing with the strength of Select and the sweetness of Creme de Cacao.

2021 - Cannaregio

(Select - Italicus - Pommè Roner Liqueur - Organic Citric Acid - Liquid Sugar; 100 ml, 12.5% vol.)
This cocktail is dedicated to the most cosmopolitan and contemporary district of Venice and is the most experimental cocktail Patrick dedicates to the Republic of Venice. A wish for a future of peace and beauty, a fragrant and unusual mix around Select.

NIO cocktails are prepared using the best liqueurs and spirits without the addition of any preservatives.
Hand-mixed in Italy with the best spirits from all over the world
We'll take you home or wherever you like, with a high quality and exciting tasting experience. Treat yourself or give someone you love a wonderful sensory moment. Our cocktails are created by top mixologist Patrick Pistolesi and produced in entirely recyclable packaging .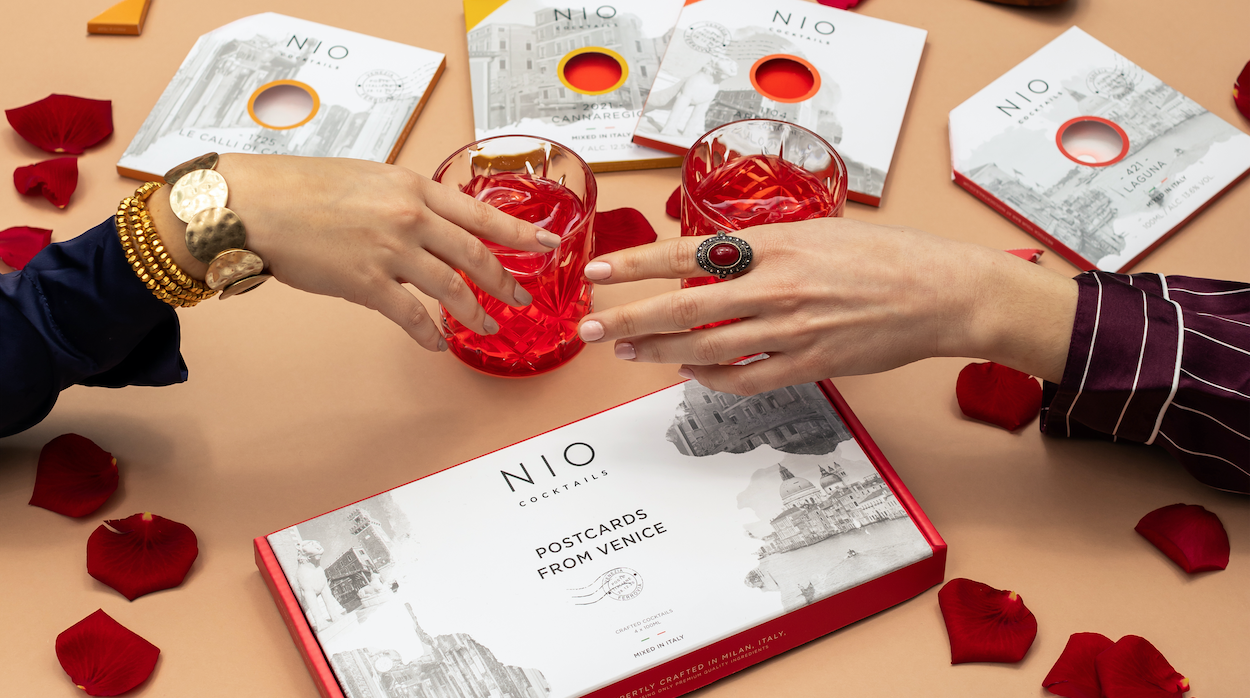 Select Aperitivo
The legend of Venice with art, culture, history - and mixology. Patrick Pistolesi talks about his journey to the ancient untouched heart of the Lagoon, where the Select aperitif, a cornerstone of Venetian blending, was created in 1920.